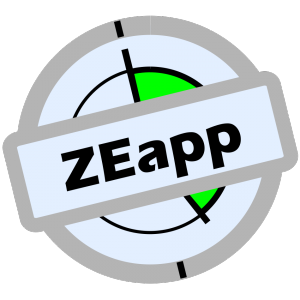 ZEapp is an easy time recording application, that enables you to save your worked hours.
Features:
daily, weekly and monthly view
calculation of overtime
manual bookings
stamp widget
Tasker Plugin – stamp automatically with Tasker App
adjustable target hours and breaks
create reports (CSV, HTML)
import and export of database
Language selection: English / german
Premium Features:
notification, while stamped in
display week or month overtime
should time reached alarm
maximum work time reached alarm
calculate remaining leave days
automatic backup
Permissions:
ZEapp – Timesheet needs the permission to write on storage to save the database and to create reports. If you deny the permission, both will not work.
Screenshots
Main functions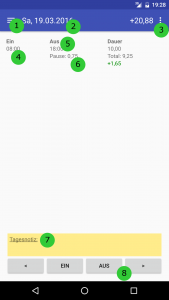 1. open main drawer, choose between daily, weekly and monthly view and access the settings
2. choose the display date
3. access to all functions related to the current view like whole day events and stamp specific times
4. change the in-time
5. change the out-time
6. change the break duration
7. add or change a daily note
8. navigation through days, weeks and month and stamp in and out
Reports
Under this menu point, you could create several reports about your working hours.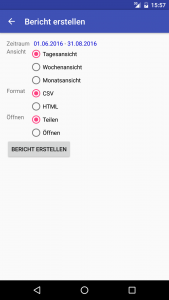 In the first step, you could choose the period for your report. Further you could choose the view variant and the format of the output file. In the last step, you could choose to share the file (i.e. as Email) or to directly open it.
Widget
With the ZEapp Widget you can easily stamp in and out directly from your Homescreen. The Widget shows the "in"-time and the calculated should time.
Settings
Working hours
Initial value (time credit)
amount of overtime at the beginning of using this application; to correctly calculate you total overtime, please fill the first week from the beginning
Count missing days
choose, whether you want to count missing day (i.e. forgotten to stamp) or not, will only be used for past days
First day of week
beginning of the week, this choice is affecting the weekly view and the calculation of week work duration
How to enter work hours
dependent on this setting you can choose working hours per week or per day
Hours per week
number of hours you have to work per week
Working days
you can specify the days when you have to work, this results in your daily work duration (hours per week / working days)
Monday – Sunday
daily working hours in decimal values
Breaks
Break stamped?
not stamped time is calculated as a break
Duration of first break
first break in hours (0.5 hours are 30 minutes)
Duration of second break
second break in hours (0.25 hours are 15 minutes)
First break after x hours
first break starts after x hours
Second break after x hours
the second break starts after x hours (the first break is not calculated, means, the second break starts after x hours plus the duration of the first break)
Leave days
Number of leave days per year
Enter the number of available leave days in one year
Calculate remaining leave days
If you enter less leave days per year as stated, they are shown as additional leave days in the next year.
Leave days in first year
To calculate the remaining leave days correctly you need to enter the amout of leave days in the first year of using the app
Leave day correction
If you need to adjust the amount of leave days in one year, you can add or remove days here
Edit adjustments
Adjustment can be shown or deleted here
Display
Number format
choose, whether to display the calculated times in decimal or in time format (i.e. 0.5 hours are 0 hours, 30 minutes)
Show total overtime
choose, whether to display the total overtime in title bar or not, this has a direct influence to the starting time of the app
Show notes
choose, whether to display the notes in weekly and monthly view or not
Display special days
choose, which special days you want to display in the left drawer menu)
Change language
You can select the language of the app. Standard is the language of your phone, or English, if your language is not supported
Database
Export database
Possibility to export the database, i.e. to gmail, drive (depends on your installed apps)
Import database
Choose the .db file from filesystem
Reset database
You can reset your database if necesarry
Automatic Backup
The automatic backup is written each time you stamp out. The last 10 versions will be saved. You can find it under /sdcard/ZEapp/AutoBackup